April 25, 2017
CRC Launches Property Enhancement Program at Kenilworth at Perring Park Apartments Valued at Nearly $12M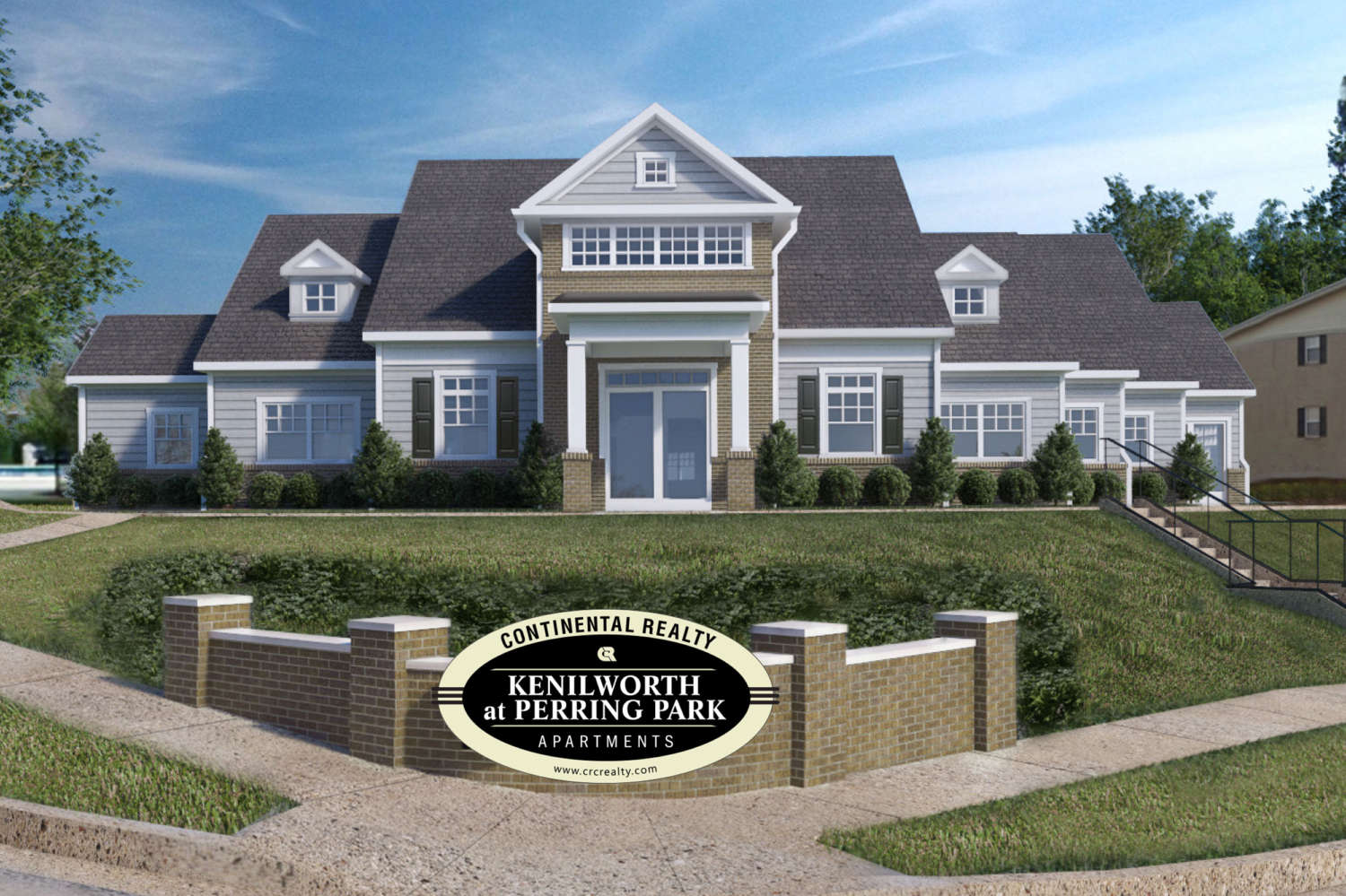 Centerpiece of improvement package is construction of 1,573 square foot clubhouse to include state-of-the-art kitchen and leasing office
Baltimore, MD (April 25, 2017) – Continental Realty Corporation (CRC) has launched a comprehensive interior and exterior renovation and improvement program, valued at nearly $12 million, at Kenilworth at Perring Park Apartments. The centerpiece of this package is the construction of a 1,573 square foot Community Clubhouse that is expected to be completed in June. Located at 8951 Waltham Woods Road in Baltimore County, Kenilworth at Perring Park consists of 567 one, two and three-bedroom apartment homes. The Mullan Contracting Company is handling general contracting activities for the clubhouse.
The new clubhouse is approximately 1,000 square feet larger than the previous building that was demolished last fall to make way for the new structure. Features include an open kitchen design, vaulted ceilings, a state-of-the-art sound system and a new fitness center. Upgrades are also being completed to the swimming pool, including the installation of a splash pad, a new pool deck and furniture.
CRC has also initiated an interior improvement program highlighted by the installation of full-size stackable washer and dryer units in each apartment home; the upgrading of the kitchen areas including the installation of granite countertops and stainless steel appliances and the creation of an open kitchen concept. The interior initiative is expected to extend for approximately five years.
Kenilworth at Perring Park Apartments is located near East Joppa Road in Parkville. Towson Town Center, along with numerous retail shopping and restaurant amenities are within close proximity. Nearby parks and open spaces include Krause Memorial Park and Loch Raven Reservoir.
"To maintain our top-in-class status with each apartment community, it is critical to proactively initiate enhancement programs that add value to our properties and improve our residents' lives," stated David Donato, Senior Vice President of CRC. "This on-going investment also furthers our goal of maintaining the highest quality and peak functionality of the apartment homes, while also contributing to the overall brand of the company."
About CRC
Continental Realty Corporation, headquartered in Baltimore and founded in 1960, is a full-service commercial real estate investment and management company. The privately-owned firm owns and manages a diversified portfolio of retail centers consisting of over 3.5 million square feet of space, as well as apartment communities featuring nearly 10,000 apartment homes. Positioned throughout the Mid-Atlantic and Southeast regions, the value of the portfolio exceeds $1.5 billion.
Also Covered By