August 12, 2015
CRC Launches New Modernized and Expanded Website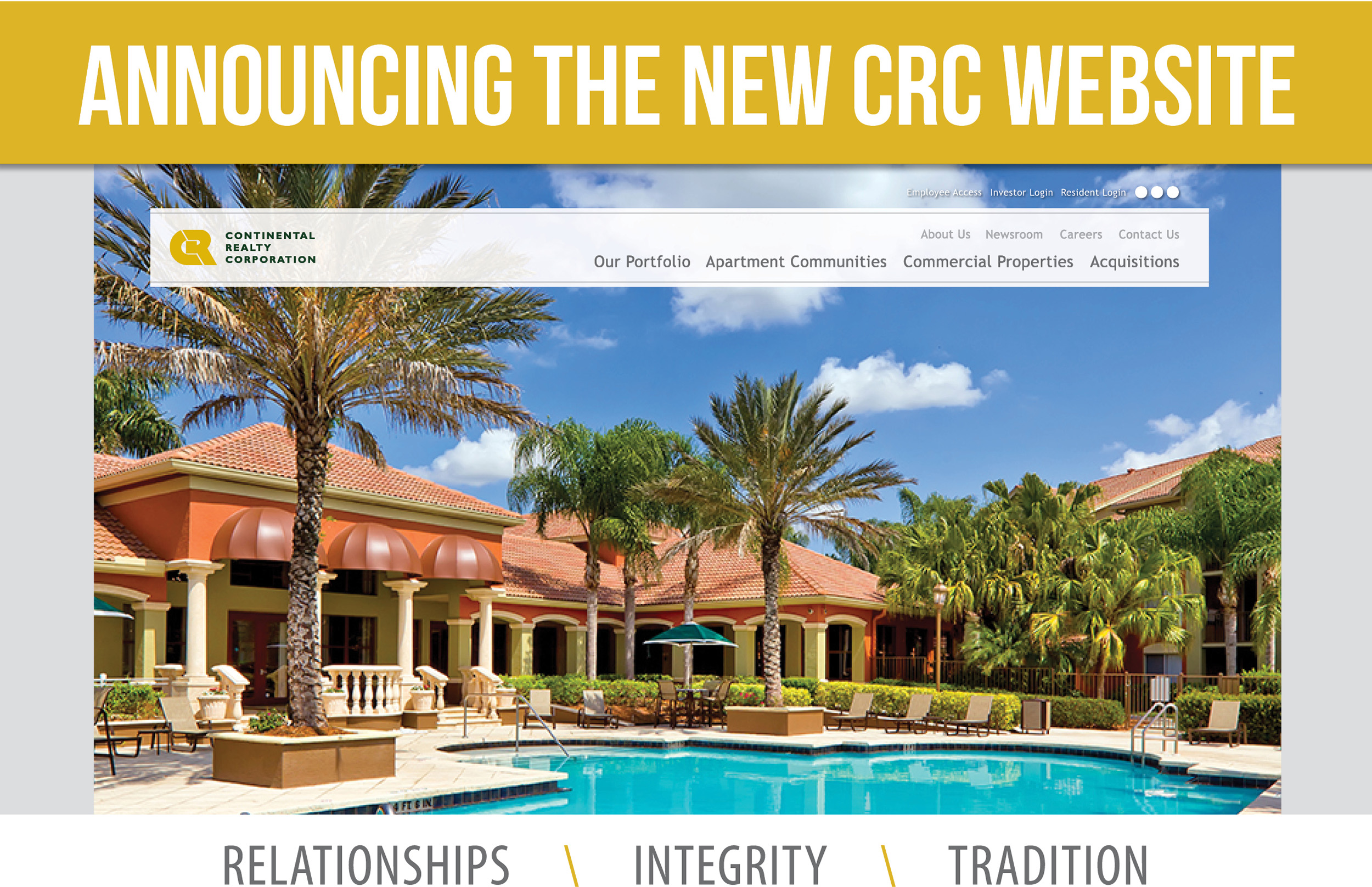 CRC has announced the launch of its modernized and expanded website at crcrealty.com. The new fully responsive website utilizes a clean, modern appearance to highlight the company's diversified portfolio. Vitamin was chosen to design and execute the new website.
"As we continue to expand our portfolio and grow our team, we recognized the importance of a more functional and information-laden website that reflected the company's growth and forward thinking," stated Belinda Torres, Corporate Marketing Director of Continental Realty Corporation. "This new site launches us into the future and appeals to the online needs of our increasingly tech-savvy audience."
In order to integrate Continental Realty's property management platform, Yardi, a custom built "Apartment Finder" mapping application was designed, leveraging Google Maps technology to pull information from the Yardi property management system. The information dynamically populates within the website, enabling users to search through numerous filters or by location via an interactive map. The "Apartment Finder" feature makes it easier for visitors to locate rental properties based on the number of bedrooms, pricing and location. Other highlights of the redesigned site include a fully responsive interface to provide a seamless user experience between desktop, tablet and mobile devices; a new commercial properties portfolio, complete with property detail pages and individual shopping center websites; a homepage search feature; and a careers section featuring employee testimonials, and a user friendly jobs portal for potential new hires.
The site also features a company newsroom, populated with videos, recent editorial coverage, and a property image gallery.
To continue enhancing its digital presence, Continental Realty has also engaged Vitamin to implement an ongoing search engine optimization and web maintenance program for the new site.
"Continental Realty Corp.'s commitment to excellence is underscored by their desire to remain a leader in all aspects of the company's business," said Michael Karfakis, COO of Vitamin. "That mission is exemplified through CRC's dedication to integrating technology that enhances, streamlines and monetizes the marketing effort."
About CRC
Continental Realty Corporation (CRC), headquartered in Baltimore and founded in 1960, is a full-service commercial real estate investment and management company. The privately-owned firm owns and manages a diversified portfolio of retail centers consisting of over 3.5 million square feet of space, as well as apartment communities featuring nearly 10,000 apartment homes. Positioned throughout the Mid-Atlantic and Southeast regions, the value of the portfolio exceeds $2 billion.