May 5, 2015
Continental Realty Corporation Sponsors Broker Event At Waterford Park In Orlando, Florida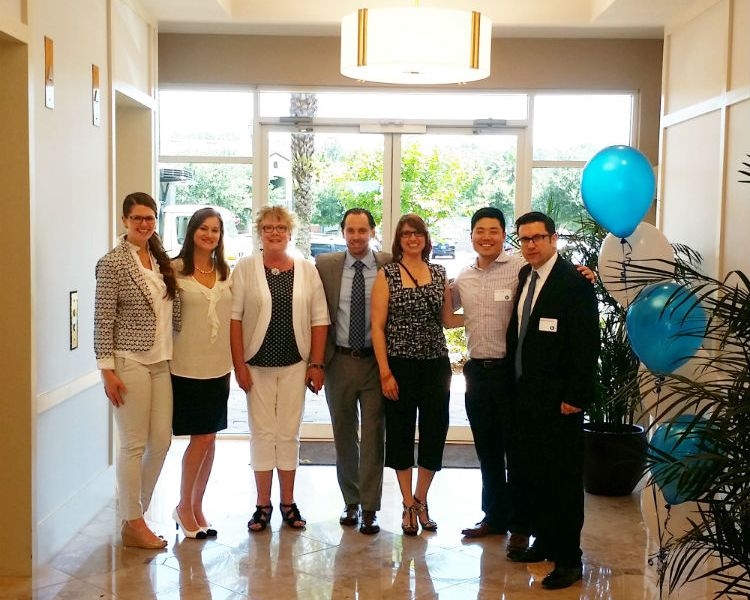 Attending the event from Continental Realty were: Haley Gallagher, Asset Manager; Cherene Keenan, Leasing Associate; Nancy O'Meara, Director of Property Manager; Blake Dickinson, Leasing Manager; Belinda Torres, Corporate Marketing Director; Paul Kang, Director of Acquisitions and David Donato, Vice President, Commercial Division.
Contintental Realty Corporation recently sponsored a Broker Event at Waterford Park to highlight leasing progress and a number of recent improvements. The property, a 110,000 square foot project located at 12301 Lake Underhill Road in the Waterford Lakes section of Orlando, Florida, features a mixture of commercial office, medical and retail space. At the time of Continental's acquisition of the building in late 2012, approximately 76,000 square feet of space was available in the project.
In just over two years, Continental Realty has signed 19 leases (more than 35,000 square feet of commercial space), with new tenants such as Bonefish Grill, Prime Lending and iStudio Salons to elevate the project to 70% occupancy.
In addition, Continental Realty completed several physical upgrades to the property including the construction of new second-floor restroom facilities, the installation of an additional elevator to serve the east side of the building and significant cosmetic improvements to the office lobbies and common area hallways.
Remaining availabilities at Waterford Park range in size from 900 square feet to over 9,500 square feet. Although much of this space is in shell condition and can be built out to suit the needs of a particular business, several ready-to-occupy office suites are still available.